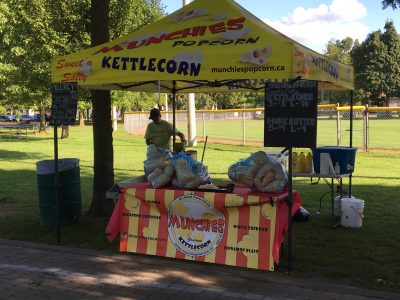 We enjoyed a lovely autumn day at the Market last Saturday. The temperature was moderate and the sun played peek-a-boo with the clouds until it disappeared completely about mid morning. Then, at about 1 pm the sun made a beautiful comeback, just in time for us to pack up, of course. Although the attendance was lighter than it has been, it was still a great day at the Market. We were treated to music by a busker most of the time with a break for our own Aaron Morris. He was joined on stage by another talented musician,  James Brown.
Many of you noticed that our beloved chef, Gabriel, was missing. He has experienced some health challenges recently and is in hospital undergoing tests to pinpoint the exact nature of the problem and rectify it. He will probably be away from the Market for a few weeks being treated and recovering. We will hava a card at the Market next week for people to sign if they wish. We know that everyone wishes him a speedy recovery.
Our next Special Event will be Culture Days which we celebrate by having a Soup Fest. For a number of reasons, this year's event will be slightly smaller as we have fewer chefs than in previous years and will be missing Gabriel. Nevertheless it promises to be an exciting day with music provided by the wonderful Glenn Marais. Chef Cathy will be making a delicious Spicy Lentil and Black Bean Soup and I will create an African Peanut Soup in honour of this year's OBOA's book choice, Sweetness  in the Belly, which is set in Ethiopia and England. At press time, Chef Pascal had not decided which soup he will be making so we're all in for a surprise. The soup tasting will run between 10am-12 noon and the booth will be in Town Park. Shortly you will find the recipes on our website.
Now let me introduce a new vendor this season.His name is Adam Stanton and his business is "Munchies Gourmet Kettlecorn". After working for a large Canadian Bank for 14 years, Adam felt he needed a change and a new direction. Living in Port Perry with his wife and 3 beautiful daughters, he wanted to do something which his kids could participate in and eventually take over, if they so desired. While watching a show which featured different businesses, a popcorn company caught his eye. "Munchies Gourmet Kettlecorn" as born in 2018.  Wanting to test the waters at first, he made a small investment in startup necessities and began selling at just one Farmers' Market. To make his popcorn unique, he focused on a small number of flavours and offering the best tasting and freshest popcorn. He prepares each batch fresh daily using only the best quality ingredients. His other focus is his emphasis on being vegan and allergy friendly to ensure his customers that most of their products are dairy, nut, egg and sesame free. He has heard from the occasional customer who would prefer he not use plastic to hold the popcorn and while it would be complicated for him to change to something biodegradable, he says that he will look into it. If you haven't already, I recommend visiting his booth in the park to sample his yummy popcorn.
See you at the Market!