Our Story
You can read an original Aurorian Article, dated September 2004 here.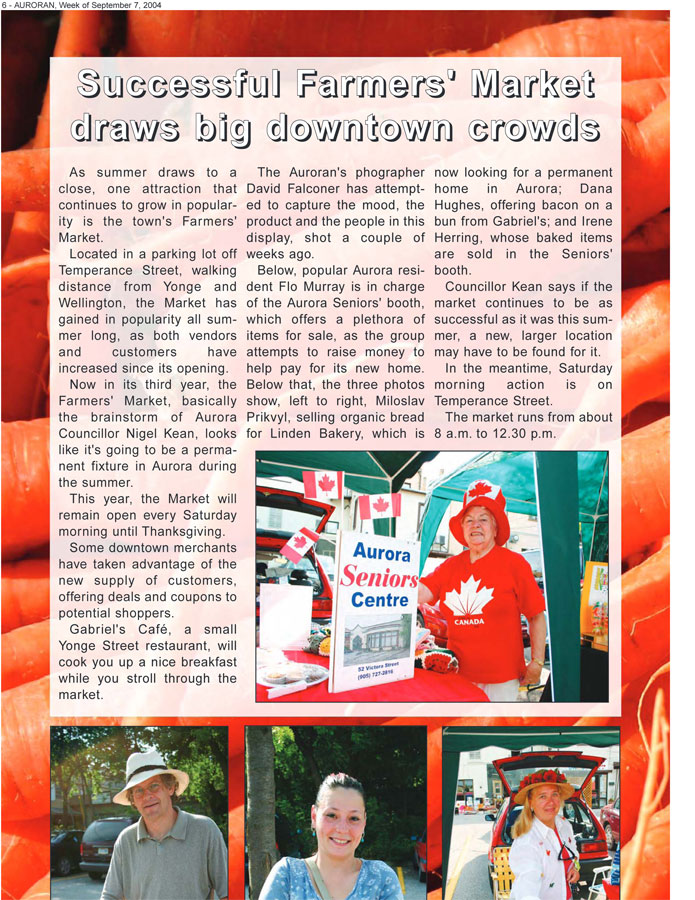 The Aurora Farmers Market began in 2002 in the parking lot of Temperance at the suggestion of Councillor Nigel Kean.
At that time, there were only about six vendors, including a few local farmers. Gradually the market grew and more varied vendors joined.
Within a few years, Councillor Steven Granger replaced Councillor Kean and shepherded the fledgling market to new quarters on Wells St. and Town Park. At that time, the market was still officially sponsored by the Town of Aurora.
Soon after, as the market continued to grow, it became independent and self governing.
Today, we are governed by a Board of Directors. We have a Constitution, ByLaws, Policy and Procedures.
We host over fifty vendors which include Farmers, Food Vendors, Artisans and Community Groups.
During the market season, The Aurora Farmers Market host a variety of special events and entertainment weekly.  The AFM works closely with the Town of Aurora on Sponsored Town events.  A variety of Children's Crafts is offered weekly.
The market continues to operate at the Town Park location every Saturday from
8:00 am to 1:00 pm from the beginning of May to the end of October - RAIN OR SHINE!