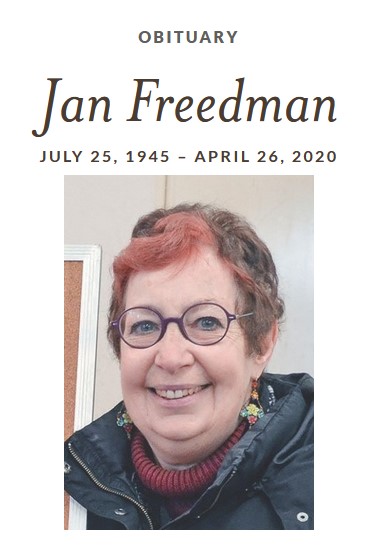 Jan Freedman Condlln passed away on April 26, 2020, in Aurora, Ontario, of heart failure at the age of 74.
Born Catherine Jan Lunan in Montreal on July 25, 1945, she was raised in Montreal and Vancouver. She was educated at the London School of Economics, Carleton University and later York University, completing a Masters in Sociology. Passionate about the arts, she was an ardent supporter of human rights and freedoms and the democratic process. She had an eclectic, creative sensibility, a formidable presence and a lively personality, quick to laugh. Living in Aurora over the last 20 years brought many gifts, including a vibrant community to which she connected wholeheartedly. In the Aurora Seniors Association, where she served as vice-president, on the board of the Aurora Public Library and at the Aurora Farmers Market—where she was fondly known as the "Jam Lady" for the delicious Jan's Country Pantry preserves she lovingly made—she was a driving force. In this beautiful milieu she found welcome challenges, much joy and many friendships. She leaves her devoted husband of 42 years Frank Condlln, daughter Laura Condlln (Jane Gooderham), brother-in-law Bill Condlln (Melodie), as well as extended family, including the caring Sue Beaumont and her family.
A celebration of life will be held in the future. We would be grateful for donations to Procyon Wildlife and the Women's Centre of York Region .
Fond memories and expressions of sympathy may be shared at www.ThompsonFH-Aurora.com for the Freedman family.