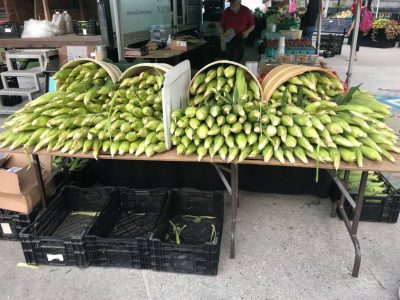 What a glorious day we had on Saturday for our annual Community Corn Roast. It was sunny and warm with a cool breeze from time to time. There were long line ups at the BBQ for the corn; it seems that the BBQ wasn't working fully. Nevertheless, the corn was sweet and delicious, the music provided by Dave Pilkey and Steve Falk was great and the face painter and the person creating balloon animals were wonderful.
Now a look at the Farmers' Market from a different perspective. Many of you have the privilege of coming to the Town Park on a Saturday to shop from the many booths of our talented artisans or choosing the perfect item from the farmers to complement your dinner or BBQ. At the same time, children are enjoying the children's crafts and activities available to them with the help from our great group of volunteers.
Families make sure that they are well fed by a delicious assortment of freshly prepared food from crepes, breakfast sandwiches, Dutch pancakes, smoked brisket and Indian samosas to scones, Danishes and cookies. These can be washed down by freshly roasted fair trade coffee, tea or lemonade.
Even on a rainy day, many people make the trip to the Market to ensure they have the ingredients they need to keep their 'fridge stocked for the week with fresh, local Ontario foods available at the Market. While the visit may be shorter on an inclement day, it's a must stop for many. Still it's a pleasant and relaxing morning for so many people.
However, the mornings are not as relaxing or enjoyable for some. In Aurora, as in all communities, towns and cities in Canada, there are many families who suffer from hunger. For all kinds of reasons, most not in their control, these families don't know where their next meal will come from. Food Banks Canada statistics tell us that "Canadians visited food banks 1.1 million times in March 2018. 35.2 % of people using food banks are children under 18 (foodbankscanada.ca). These are frightening statistics and it's hard to believe that they're true, but they are!
The need is real and summers take a toll on the supply at the Aurora Food Pantry, as does the start of the school year. During the summer children are active and they need fuel to play and grow. When school restarts, they need healthy breakfasts to start their day and nutritious lunches so they can learn.
So, again this year the Aurora Farmers' Market and Artisan Fair will host a STUFF THE TRUCK campaign which will kick-off on August 31st at 11:00 a.m. when there will be special guests and entertainment. To augment what we collect at the Market, NewRoads Mazda on Mulock will have a collection bin in their showroom. Drop by to say hi to Curtis Biggs and the wonderful staff.
Every Saturday in September, the Market will have a large bin set up in Town Park to collect everyone's donations to the Aurora Food Pantry. The campaign will wrap up on October 5 at 11 a.m. when we'll announce the final tally.
The list of staple needs includes baby food, juices, healthy school snacks,  soups , stews, rice, condiments, tuna and canned meats, peanut butter, personal hygiene and toiletries, toilet paper and paper towels. Please ensure that the items have not passed their best before dates.
We encourage all of our wonderful Farmers' Market shoppers to participate generously to help their fellow less fortunate Aurorans who need a helping hand. THANK YOU!
See you at the Market!