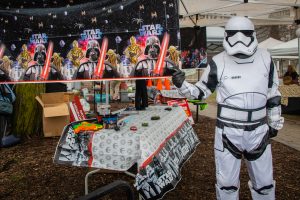 After enduring what seemed like a monsoon the last time we were at the Market, this past Saturday was glorious! The sky was blue with temperatures in the low 20's by mid morning although we faced some pretty gusty winds at times. Believe me, no one was complaining. We were quite busy and Market goers were treated to some lively music courtesy of a trio of buskers. Our Sasha, of Sasha's Sweets is working on getting us great buskers as often as possible since feedback from the public indicates that people love having music at the Farmers' Market. If you are interested in busking at the Market, please contact Sasha or any member of the Board.
How does your garden grow? This year…slowly…! Yes, it's been a little soggy and cool. But not to worry, your garden will be lush and beautiful with the benefit of rain and the coming sunshine. So are the gardens featured in this year's Annual Tour of Gardens by the Aurora Garden Club.
The co-chairs of the Garden Club's Tour committee scour Aurora for the best gardens in Town. They hop in the car, hit the road, spot a likely candidate and then hit the brakes. They put the car in reverse and park. Then comes the tricky part—convincing the homeowners that they have a beautiful garden, worthy of being showcased to the public. Admire their roses and, instantly, you make a connection.
Because of the increased awareness about our natural world, homeowners are turning to gardening more than ever before, whether it is fruit and vegetables or a focus on beneficial Native Plants. An additional benefit is increasing the beauty in our surroundings. The Garden Club's focus is to find each year a variety of seven or eight gardens, large or small, natural or formal to showcase. The key is that the gardens are planted and maintained by Aurorans for Aurorans. That makes visiting each one an inspiration for your own spot of paradise which is achievable.
This year's Garden Tour is on Sunday, June 23rd from 12 noon until 4:30 pm, rain or shine. This is a self-guided tour and tickets are $15.00. Tickets are available at the Aurora Farmers' Market and Artisan Fair on June 15 and 22, Aurora Home Hardware, Black Forest Garden Centre in King City, Caruso and Co. in Aurora, and New Roots Garden Centre in Newmarket. Same day tickets can be purchased at Garden #1,150 McLennan Way when the Tour starts at noon.
Game of Roses! The Garden Club has engaged a local artist from Kingscrafts to make delicate wire roses which will be placed in each garden for guests to locate and count to participate in a game. Each ticket will include a ballot and each garden will have a ballot box. The visitor who comes closest to the total number of Roses wins a basket of gardening essentials from New Roots with a retail value of $100. In addition, each ticket will include a coupon for a 20% discount on a total purchase, no expiry date. 
On the day of the Tour only, ticket holders can present their ticket at the New Roots Garden Centre for a whopping 40% discount on their total purchase. Further, New Roots is hosting an "After Tour Event" at the Garden Centre at 4:30 pm with refreshments and gardening and landscaping experts providing advice. What a great opportunity to use that 40% discount!
Visit www.gardenaurora.ca for more information.
The next Special Event at the Farmers' Market is our Strawberry Festival on June 22 when the terrific Aurora Community Band will be playing. Be sure to plan to attend.
See you at the Market!